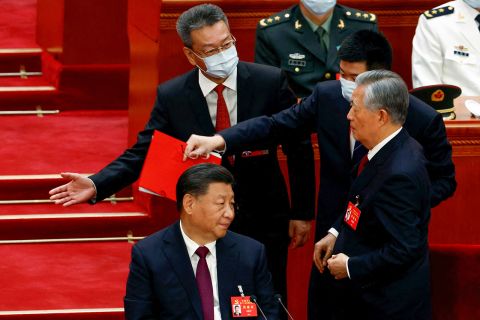 The Communist Party's five-yearly national congress is a carefully choreographed political event, meant to showcase the unity and legitimacy of the party.
But the closing ceremony yesterday in the Great Hall of the People featured a dramatic moment, when former top leader Hu Jintao was led out of the event unexpectedly.
Hu, 79, was seated in a prominent position at the front table on stage, directly next to his successor Xi Jinping, when he was approached by a staff member, according to images and video of the meeting.
While seated, Hu appeared to talk briefly with the male staff member, while Politburo Standing Committee member Li Zhanshu, who was seated to his other side, had his hand on Hu's back.
Hu then appeared to rise with the help of the staff member, who'd linked his arm around the former leader's, while a second man came over. Hu spoke with the two men briefly and initially appeared reluctant to leave.
He was then escorted by the two men from his seat, with one holding his arm, as other party members seated behind the main table looked on.
On his way out, Hu was seen to gesture to Xi and say something to the leader. He then patted Premier Li Keqiang on his shoulder. Both Xi and Li appear to have nodded; it was not clear if Xi spoke.
State media breaks silence: The circumstances around his departure were not immediately clear, and CNN was censored on air in China when reporting on Hu's exit.
The dramatic moment has not been reported across state-run Chinese-language media or discussed on Chinese social media, where such conversation is highly-restricted — but it has set off a firestorm of speculation overseas, with many analysts describing it as public humiliation and likely power play.
China's state-run news agency Xinhua finally broke its silence on Saturday night, writing on its English-language Twitter account that Hu "insisted on attending the closing session of the Party's 20th National Congress, despite the fact that he has been taking time to recuperate recently."
"When he was not feeling well during the session, his staff, for his health, accompanied him to a room next to the meeting venue for a rest. Now, he is much better," Xinhua wrote.
The comment was attributed to a specific Xinhua reporter, a highly unusual move. Xinhua is the official government news agency, and news lines are typically handed down from government departments, not sourced independently.
Twitter is also banned in China. To date, Xinhua has not posted the statement on their website or Chinese-language social media.