When Xi Jinping came to power a decade ago, China had just overtaken Japan to become the world's second largest economy.
It has grown at a phenomenal pace since then. With an average annual growth rate of 6.7% since 2012, China has seen one of the fastest sustained expansions for a major economy in history. In 2021, its GDP hit nearly $18 trillion, constituting 18.4% of the global economy, according to the World Bank.
China's rapid technological advances have also made it a strategic threat to the United States and its allies. It's steadily pushing American rivals out of long-held leadership positions in sectors ranging from 5G technology to artificial intelligence.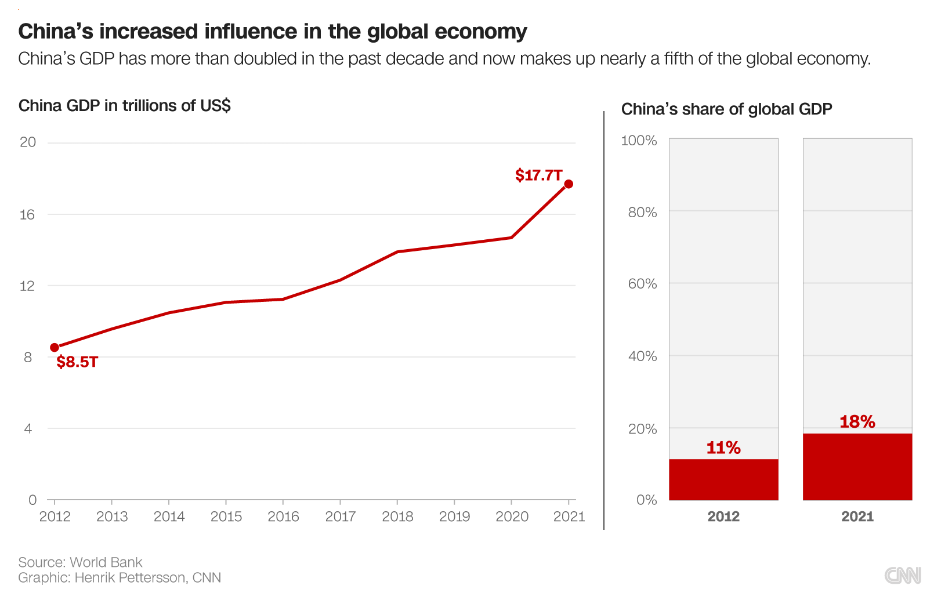 Grim forecast: Until recently, some economists were predicting that China would become the world's biggest economy by 2030, unseating the United States. Now, the situation looks much less promising.
As Xi prepares for his second decade in power, he faces mounting economic challenges, including an unhappy middle-class. If he is not able to bring the economy back on track, China faces slowing innovation and productivity, along with rising social discontent.
"For 30 years, China was on a path that gave people great hope," said Doug Guthrie, the director of China Initiatives at Arizona State University's Thunderbird School of Global Management, adding that the country is "in deep trouble right now."
Growing list of problems: A sweeping crackdown by Beijing on the country's private sector, that began in late 2020, and its unwavering commitment to a zero-Covid policy, have hit the economy and job market hard.
"Xi's leadership is not causal for China's economic rise," said Sonja Opper, a professor at Bocconi University in Italy who studies China's economy. "If anything, Xi's leadership may have dampened some of the country's growth dynamic."
Read the full analysis here: